Sale: 385 / Rare Books, Nov. 21. 2011 in Hamburg
Lot 1239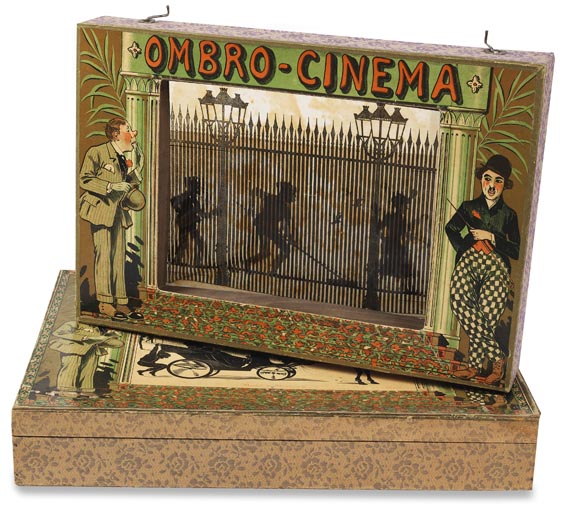 1239
L'Ombro-Cinéma. (33), 1920.
Estimate:
€ 1,200 / $ 1,272
Sold:

€ 1,200 / $ 1,272
(incl. 20% surcharge)
Spiele. - L'Ombro-Cinéma. Nouveauté sensationelle. Optisches Spiel mit 2 Schattenriß-Papierbildrollen (1 lose), 1 Folie mit Straßenkulisse (auf Holzrahmen montiert) und 1 figürl. Kartonblatt. Paris, Saussine um 1920. OPp.-Schachtel mit Buntpapierbezug und mont. farblithogr. Titelschild. 46,5 : 33 : 8 cm.

Die auf zwei in einen Holzrahmen eingesetzte Spulen aufgewickelte, mit Schattenrißfiguren bedruckte Bildrolle (Polizist, Spaziergängerin, Frau mit Kinderwagen u. a.) wird durch Hin- und Herkurbeln der Spulen über eine in den Holzrahmen eingespannte Folie mit Straßenlaternen und Eisengitterzaun gezogen, so daß wie beim Schattentheater die Illusion entsteht, die Figuren würde ihre Füße voreinandersetzen und sich die imaginäre Straße entlangbewegen. Beilieg. eine weitere Rolle mit mont. Tierfiguren sowie ein Kartonblatt mit unausgeschnittenen Schattenrißfiguren, darunter: Chinese, Kasperle, Harlequin, Römer, Indianer, Toreador, Affe, Ballerina, Alte Frau, Schäferin, Flamencotänzerin u. a. Innendeckel mit mont. Spielanleitung in Französisch. - Funktionstüchtig.

Optical game with 2 silhouette image rolls (1 loosely attached), 1 foil with street scene (mounted on wooden frame) and 1 figurative cardboard sheet. Orig. boards box with color paper covering and mounted color-lithogr. label. 46,5 : 33 : 8 cm. Inside of lid with mounted instruction in French. - Functioning.


1239
L'Ombro-Cinéma. (33), 1920.
Estimate:
€ 1,200 / $ 1,272
Sold:

€ 1,200 / $ 1,272
(incl. 20% surcharge)
Spiele - lots sold by Ketterer Kunst