Sale: 385 / Rare Books, Nov. 21. 2011 in Hamburg
Lot 1237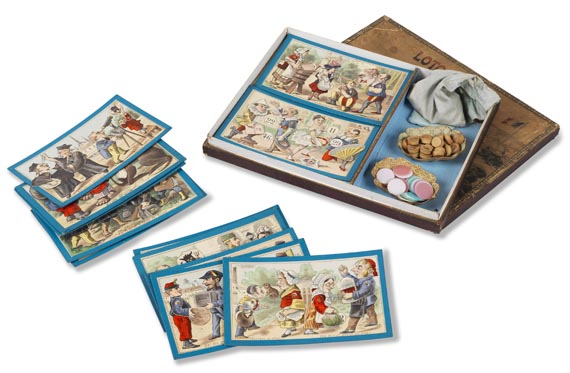 1237
Loto animé. (175), 1875.
Sold:

€ 960 / $ 1,017
(incl. 20% surcharge)
Spiele. - Loto animé. Lottospiel mit 12 farb. lithogr. Nummernkarten mit beweglichen Elementen, 48 num. Holz-Setzsteinen und 40 farb. Glasplättchen. Frankreich um 1870. Lose in OPp.-Schachtel mit mont. farb. lithogr. Titelschild, die Setzsteine und Glasplättchen in 2 Seidenbeuteln und 2 Pp.-Schalen. 37,5 : 29 : 4,5 cm.

Die Nummern-Karten zeigen versch. Figuren und Tiere, darunter Ballerina, Harlequin, Soldat, Postbote, Fahrradfahrer, Elefant, Känguruh etc., deren Arme und Beine oder andere Körperteile und Accessoires die beweglichen Elemente bilden. Für das Lottospiel werden, entgegengesetzt zur üblichen Spielweise, die Nummernfelder auf den Karten zuvor mit den Holz-Spielsteinen (Durchmesser 1,5 cm) bedeckt, um durch Aufrufen der entsprechenden Nummern freigelegt zu werden, so daß die beweglichen Elemente an ihren Platz geschoben werden können. Ziel des Spieles ist es, alle num. Felder eines Kartons mit einem beweglichen Element bedeckt zu haben, um eine Anzahl farb. Glasplättchen (Durchmesser 2,5 cm) zu gewinnen. Innendeckel mit Spielanleitung in Französisch.

With 12 color-lithogr. number cards with movable elements of figures and animals, 48 numb. wooden playing stones and 40 small glass plates in colors. Loosely in orig. boards box with mounted color-lithogr. title label, stones and glass plates in 2 silk bags and 2 boards bowls. 37,5 : 29 : 4,5 cm. Inside of lid with instructions in French.


1237
Loto animé. (175), 1875.
Sold:

€ 960 / $ 1,017
(incl. 20% surcharge)
Spiele - lots sold by Ketterer Kunst