Sale: 385 / Rare Books, Nov. 21. 2011 in Hamburg
Lot 1240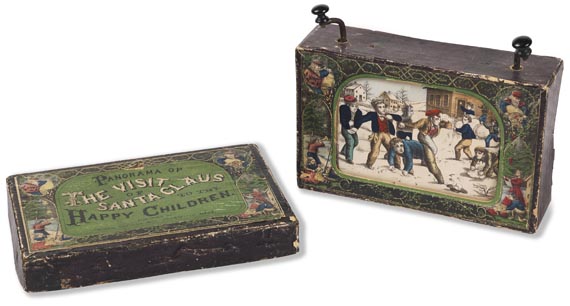 1240
The visit of Santa Claus. (127), 1870.
Sold:

€ 1,140 / $ 1,208
(incl. 20% surcharge)
Spiele. - Panorama of the visit of Santa Claus to the happy children. Optisches Spiel. Mit Papierbildrolle mit 25 farblithogr. Tafeln. Springfield, M. Bradley [um 1870]. OPp.-Schachtel mit mont. farblithogr. Titelschild, Schachtelboden mit ausgestanztem Sichtfenster mit farblithogr. Bildrahmen. 21,5 : 13,5 : 5 cm.

Die mit 25 versch. Motiven und Szenen bedruckte Bildrolle wird über zwei Spulen durch das Sichtfenster im Schachtelboden gezogen. Die einzelnen Tafeln zeigen dabei Szenen aus dem Kinderleben und andere Bilderbuchmotive, z. B. Klassenzimmer, Schneeballschlacht, Weihnachten unter dem Tannenbaum, Mädchen mit Hund, Gebet mit der Mutter, Spielen mit dem Leiterwagen, Blindekuh, Drachensteigen, Wettrennen u. a. - Die lithogr. Anstalt Milton Bradley etablierte sich seit der Gründung 1860 auf dem amerikanischen Kontinent bis ins 20. Jh. als die vorrangige Firma für Lithographiedruck und Gesellschaftsspiele.

Game with p aper image roll with 25 color-lithogr. plates. Orig. boards box with mounted color-lithogr. title label, bottom of box with punched viewing window wit color-lithogr. image frame. 21,5 : 13,5 : 5 cm.


1240
The visit of Santa Claus. (127), 1870.
Sold:

€ 1,140 / $ 1,208
(incl. 20% surcharge)
Spiele - lots sold by Ketterer Kunst