Sale: 340 / Rare Books, May 19./20. 2008 in Hamburg
Lot 73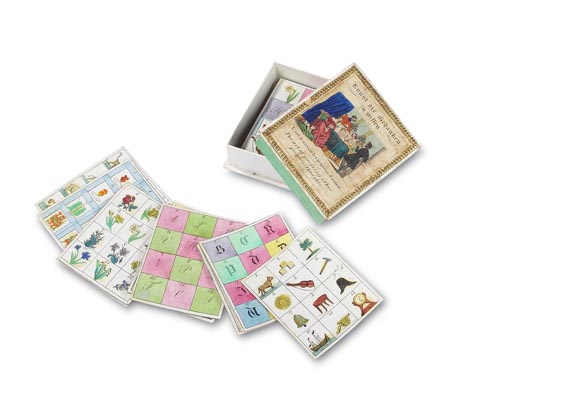 73
Kunst, die Gedanken zu wissen. 1850
Sold:

€ 576 / $ 610
(incl. 20% surcharge)
Kunst die Gedanken zu wissen.
L'art à savoir les pensées d'autrui. The art of guessing other people's thoughts. Gesellschaftsspiel. Set von
19 kolor. lithogr. Spielkarten.
Deutschland um 1850. Lose Tafeln in OPp.-Schachtel mit Deckeltitel mit kolor. lithogr. Illustration und goldfarb. applizierter Bordüre. 10 : 9 : 3,5 cm.
Hübsches kleines Gesellschaftsspiel. Die in kl. Felder unterteilten Spielkarten zeigen jew. sechzehn versch. Motive zu bestimmten Themen und Begriffen, wie Tierarten, Blumensorten, Buchstaben, Zahlen, deutsche Spielfarben, deutsche klassische Schriftsteller, antike Mythologie und Gebrauchsgegenstände des Alltags. Der Spielablauf bestand vermutlich darin, daß einer der Spieler ein Motiv von seiner Karte wählte, wobei er nur das allgemeine Thema vorgeben durfte, und ein anderer Spieler das Motiv durch Fragen erraten mußte. Die Deckelillustration zeigt ein kl. Gruppe von Männern und Frauen bei der Ausübung des Spiels. - Fehlt wohl 1 Karte (zur 20). Eine Karte mit Knick, Deckel leicht fleckig, ansonsten gut erhalten.
Decorative small party game. Set 19 (of 20?) col. lithogr. playing cards. In contemp. box with col. illustrated lid. 10 : 9 : 3,5 cm. - Decorative game of guessing the thoughts of others, that is selected objects, numbers, letters, animals and flowers shown on the playing cards, by asking questions. - One card bent, lid slightly stained, else well-preserved.
73
Kunst, die Gedanken zu wissen. 1850
Sold:

€ 576 / $ 610
(incl. 20% surcharge)
Spiele - lots sold by Ketterer Kunst