Privacy policy

Sale: 296 / Rare Books, Nov. 21./22. 2005
Lot 17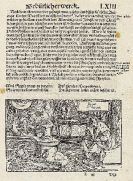 17
Der Teütsch Cicero, 1535 (unvollständig), 1535.
Estimate:
€ 1,200 / $ 1,452
Sold:

€ 2,380 / $ 2.879
(incl. 19% surcharge)
Lot description
[Cicero, M. T.,
Officia ... Ain Büch ... zü seynem Sune Marco, von den tugentsamen ämptern und zügehörungen, eines wol vnd rechtlebenden menschenn, inn Latein geschriben, Wölchs auff begere, Herren Iohansen von Schwartzenbergs etc. verteutschet ...].Mit
101 (7 ankolor.) Holzschnitten
sowie zahlr. Holzschnitt-Initialen und -vignetten überwieg. von H. Weiditz. [Augsburg, H. Steiner 13. Nov. 1535].Zeitgenöss. Holzdeckelband mit blindgepr. HSchweinslederbezug und 2 Messing-Schließen. Folio. 6 nn. Bll. (st. 8), 91 röm. num. Bll.
Fairfax Murray 119. - VD 16, C 3244. - Goedeke II, 234. 5. - Die berühmte deutsche Cicero-Übersetzung J. Neubers, gefördert durch J. von Schwarzenberg. Die erste Ausgabe war 1531 erschienen. - Kollation: [*]/6, A-O/6, P/7; ohne Bl. 1 und 8 der ersten Lage (Titel mit dem Porträt vo. und l. Bl. des Registers) und Bl. P/8 (vermutl. w.). - Tlw. etw. fingerfl. und schwach wasserrandig, 1 Bl. mit Randeinriß. Kapitale mit minim. Fehlstellen, ansonsten wohl erhaltenes und gutes Exemplar. Im vord. Innendeckel mit einem
prachtvollen ganzseit. rad. Wappenexlibris
des 17. Jahrhunderts, möglicherweise der
Familie von Artzt in Schlesien
(oval, in breiter figürl. Bordüre, Format ca. 27;5 : 16,5 cm, mit kl. Fehlstellen u. li.).
1535 edition of J. Neuber's famous translation. With 101 (7 partly coloured) woodcuts and several woodcut initials, mostly of H. Weiditz. Contemp. wooden boards. - Lacking 2 prel. leaves (title and [*]/8) and the usually lacking white leaf P8. Partly slightly finger- and waterstained, 1 leaf with marginal tear. Head and tail minim. damaged, overall a good and well-preserved copy. Full-page 17th century book-plate.
17
Der Teütsch Cicero, 1535 (unvollständig), 1535.
Estimate:
€ 1,200 / $ 1,452
Sold:

€ 2,380 / $ 2.879
(incl. 19% surcharge)
You might also be interested in

Marcus Tullius Cicero - lots sold by Ketterer Kunst