Sale: 360 / Modern Art, Dec. 12. 2009 in Munich
Lot 129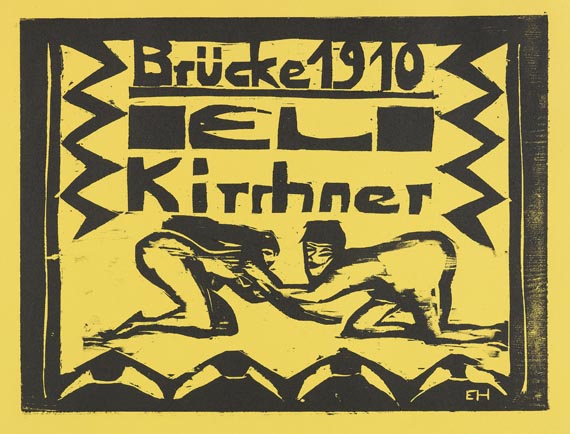 129
Fünfte Jahresmappe der Künstlergruppe Brücke (Ernst Ludwig Kirchner), 1910.
Woodcut
Estimate:
€ 80,000 / $ 84,000
Sold:

€ 104,920 / $ 110,166
(incl. 22% surcharge)

The portfolio comprising 2 Woodcuts, of which one in colors, and a drypoint etching by Ernst Ludwig Kirchner as well as the title woodcut by Erich Heckel on the orig. wrapper
Dube/Kirchner H 141/II (of III), H 160, R 69. Söhn 215-3, 215-2, 215-4. Dube/Heckel H 181, Söhn 215-1. All Kirchner prints signed, the title woodcut by Erich Heckel monogrammed in the printing block. On copper plate printing board (Kirchner), wrapper on lucent yellow cardboard (Heckel). Sizes (Kirchner): up to 40 x 53,7 cm (15,7 x 21,1 in)Size of portfolio (wrapper): 41,8 x 55 cm (16,4 x 21,6 in).
Conatins: "Tänzerin mit gehobenem Rock". 1909. Woodcut. Dube H 141/II (of III). 24,7 x 33,8 cm (9,8 x 13,4 in). "Mit Schilf werfende Badende". 1909. Woodcut in colors. Dube H 160. 19,8 x 28,8 cm (7,8 x 11,4 in). "Drei Badende an den Moritzburger Seen". 1909. Drypoint etching. Dube R 69. 17,8 x 20,3 cm (7 x 8 in) as well as "Kniende Akte" by Erich Heckel. 1910. Woodcut. Dube H 181. 29,6 x 39,9 cm (11,7 x 15,7 in). Sheets and wrapper in mint condition. Rare in this completeness.

PROVENANCE: Dr. Hildebrand Gurlitt, Hamburg (with a written note on verso of the portfolio's wrapper).
Private collection North Germany.

In terms of its importance and its relevance for the artist group "Brücke", this portfolio is on par with the other artistic genres, as there are painting, drawing and sculpting. However, the Expressionists did not have nearly as much joy in experimenting in other artistic fields as they had in the field of graphic art. They almost passionately worked with difficult materials and tried out new and unusual printing methods. The results made for a revolution, when compared with the then common viewing habits. The annual portfolios of the "Brücke" and their unorthodox design are a highlight of Expressionism. In the context of the then common graphic techniques, which had already become jaded in a copy-like canon, their new ways seem like a rebirth of graphic art. The contents were also in a continuous process of change. Even slightly frivol works such as the famous lithograph in colors "Mademoiselle Lender en buste" by Henry Toulouse-Lautrec, published in the magazine PAN in 1895, were a shock to the German bourgeoisie when, taking this into account, we can guess at how strong the public reaction was to the "Brücke" graphics. They paved the path for a direction that many artists would follow, however, success only arose at a later point. [KD].


129
Fünfte Jahresmappe der Künstlergruppe Brücke (Ernst Ludwig Kirchner), 1910.
Woodcut
Estimate:
€ 80,000 / $ 84,000
Sold:

€ 104,920 / $ 110,166
(incl. 22% surcharge)
You might also be interested in
Mappenwerk / Portfolio - lots sold by Ketterer Kunst